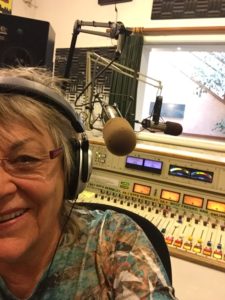 Women, Spirit, and Peace is a series of KPFA FM Pacifica Radio conversations with remarkable women from Northern California and beyond. Women in their 40s, 50s, 60s, 70s, and 80s are featured with a wide range of backgrounds and a fascinating array of personal philosophies. Working in a multiplicity of disciplines and using their creativity they each promote peace—within themselves, their communities, and the larger world.

Over a period of four months, our weekly guests include scholars of Women's Spirituality, a Pulitzer Prize winning writer, recording artists and poets, political activists, anthropologists, shamans, musicians, dancers, journalists, painters, gardeners, teachers, psychiatrists, and more. Thanks to  Amadou & Mariam for the opening theme music, "A Radio Mogo" (Thanks for Our Radio Friends).

Related to this series, Sandy was awarded a Master's degree in Philosophy & Religion (Women's Spirituality) from the California Institute of Integral Studies in San Francisco.  Graduation was held at the historic Palace of Fine Arts.
Marion is renowned as a profound chronicler of women's experience.  She was trained in Zurich as a Jungian analyst and was also an English teacher. She has been talking about the divine feminine, the sacred feminine, for decades. Marion teaches us how to use dreams and imagery, self-reflection, and bodywork, in both traditional and alternative
Listen »