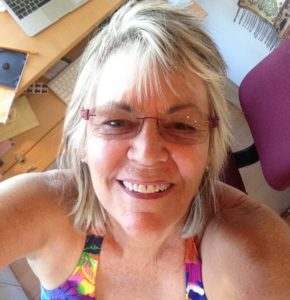 Sandy Miranda is a San Francisco native whose passion for global roots music has led her to a radio broadcast career in the San Francisco Bay Area for over thirty years.
From 1988 on KPFA FM in Berkeley, Sandy produced and hosted Music of the World and Focus on Women in Music as well as the weekly series Women, Spirit, & Peace. She hosted many Hawaiian musicians and others who played live on her show.  She also produced Hawaiian programs and global music shows on KALW's Folk Music & Beyond for twelve years in San Francisco.
Producing a website for the 2006 Olympics in Torino, Italy, Sandy recruited global musicians to perform both virtual and live segments. She was also an instructional designer for twenty-five years at Apple and other visionary organizations in Silicon Valley. 
A voting member of The Grammys and of Na Hoku Hano Hano Hawaiian music awards, she received a California State Phelan Literary Award for her Altamont story, and a Hawaiian Aloha Spirit Award from leading Hawaiian elders in San Francisco.
Sandy was a photographer for the Arhoolie Records 40th Anniversary box set and had the unforgettable experience of attending the award ceremony in Los Angeles when that project won a Grammy.
Sandy holds a B.A. in World Literature, two years of graduate work in Comparative Mythology, and an M.A. in Feminist Cultural History from the School of Consciousness and Transformation at the California Institute of Integral Studies in San Francisco. Sandy also has a passion for photography, and her work has been published in books and magazines. With her partner, Sandy spends her time in both the Bay Area and Hawaii.