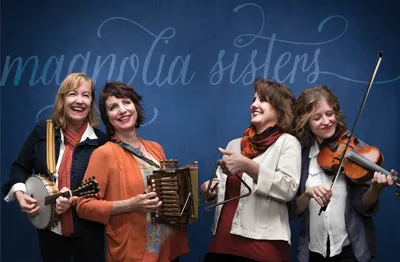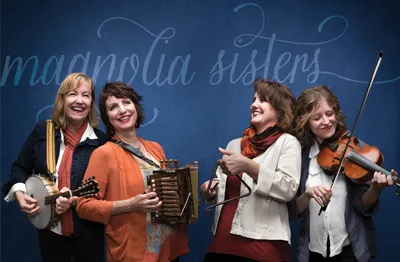 In the 3-4 pm hour, we'll feature music from Italy, from whence we just returned.
From 4-5 pm, we feature a live recording of the very down home, all woman Cajun band, The Magnolia Sisters, at the Ashkenaz in Berkeley on April 1, 2011. We air a full hour of their performance, and you can listen below. The crowd was dancing their little heads off at the show, as was your humble dj and her husband, Robert (who kindly recorded & edited this show).
If you want to learn more about the wonderful world of Cajun music, check out Ann Savoy's book, "Cajun Music: A reflection of a People", available from Ann at www.AnnSavoy.com
I would suggest that you move all your furniture out of the way tonight, roll back those carpets, bring in the dog, put out the cat, and get ready to dance when the first chords of this incredible and most authentic Cajun music starts up. This is the real deal, straight out of Eunice, LA.
Laissez les bon temps roulet!
The Magnolia Sister's CD "Stripped Down" on Arhoolie Records (www.Arhoolie.com) was nominated for a 2010 Grammy in the category of Best Cajun/Zydeco Album!
The Magnolia Sisters is a Cajun music band comprised of four diversely talented singers and musicians, based in the heart of Louisiana Cajun country. The group evolved from its founding members, Ann Savoy and Jane Vidrine, whose ten year long musical collaboration revealed the need to give a woman's voice to Cajun music while maintaining a soulful, gutsy feeling to it.
The members of the group are Ann Savoy, Jane Vidrine, Lisa Trahan, and Anya Burgess.
The Magnolia Sisters can play many styles of French music from southwest Louisiana, from dancehall Cajun to primitive Creole, from house music to front porch ballads. They take beautiful songs from a long-buried wealth of Cajun jewels and sweep off the cobwebs to bring them back in all their richness.
Il Mare Mi Salve / Rossomalpelo / talia
Balla Con Me / Giorgio Conte / talia
Balla Con Me
Gina / Lu Colombo & Maurizio Geri Swingtet / talia
Il Viaggio / Gianmaria Testa / Italia
Madonna della Grazia / Alessanta Belloni / Tarantata
O Mameto / Mammas
Sa ballarina / Tenores di Bitti / S'amore e mama
Boogie / Paolo Conte / The Best of Paolo Conte
Quante Stelle Nel Cielo Con La Luna / Lucilla Galeazzi / Italian Musical Odyssey
Il Battagliero / Riccardo Tesi / Il Battagliero
Oltre il mare / Mauro Palmas / Sardegna – Antologia della Musica Sarda Antica e Moderna
Love is Eternal Sacred Light / Paul Simon / So Beautiful or So What (request from JoAnn Mar)
Live at the Ashkenaz / Magnolia Sisters / Produced by Sandy Miranda, recorded & edited by Robert Robinett