You have to trust the universe to travel light.  Learn to enjoy taking less than you think you need, and watch for a rush of aliveness when you realize that  you truly need need even less than you thought you did.
You'll collect things along the way and often end up wearing the same thing for days, going from place to place.  If it's hot, take morning and evening showers if you need to, to keep you and your clothes fresh.  When you get tired of seeing yourself in those same duds, wash them out, and wear outfit #2.  Three outfits should do it.  City, countryside, and seaside are my usual categories.  You will buy stuff on the good trips, to remember places by and do carry a expandable nylon duffel bag that stows in it's own little bag for all your treasures at the end of the trip.  The airlines are pretty good about letting you take more stuff home than you brought.
First and foremost, be sure to learn some of the local language.  The basics for me are "good morning, thank you, coffee with milk, please, it's beautiful here, where can I hear local music, you are so kind, where's the bathroom?"  I forgot to do this once recently on a trip to Brittany in the Celtic NW of France.  Guess what?  The first language there is definitely not French.
So, when we got there, we couldn't connect with the locals very well. They did not speak English (or pretended so) and we did not know any Breton.
Once you've got a few phrases down, learn something about the culture's history, politics, music, mindset, and world view.  We're on our way to France and they have just had a very important election this week.  I'm reading the NYT before I leave home, so that I understand some of the consequences of that.
Put your passport in a case that says, "I did not vote for Trump," whether you did or not.  People in other countries will like you much better.
First Aid
Take a personalized first aid kit.  I take Zyrtec (non-drowsy allergy remedy), Pepto Abysmal, probiotics, cranberry, boric acid, Arnica (homeopathic for sprains), Arsenicum (respiratory bugs), aspirin, and moleskin.  Sometimes, (i.e., Sardinia, New Zealand) exposure to a tree or other pollen your body doesn't recognize can reek havoc in your trip-o-sphere.
In France, for instance, you can easily get effective, safe, gentle remedies in their ubiquitous pharmacies.  Some countries can be a different story.
Bring your Swiss Army Knife (if you check luggage), and be prepared.  In Australia, you might have to duel with a Brown Snake, like I almost once did–one of the most deadly snakes in the world–who happened to be hanging off a ledge above the ladies' commode (as my grandma used to say) at a rest stop.
Selecting a woman's clothes
This is the ephemeral part.  This is your custom research for every trip.  Look online at the 10-day weather forecast for the cities you'll visit.  Get an idea of what kind of clothes you'll need–warm, cool, hot, cold?   Make sure that every piece will dry over night after hand washing in the sink.  Pack a rubber sink stopper…a big round flat piece of rubber that will turn any sink into a washing basin.  Alternately, if you have more clothes to wash, do a Lucy and Ethel style foot washing in the bathtub.  We did this in Mallorca and it was so funny.  Many places, including France and Spain, don't have many laundromats.  Drying your clothes:  I've been known to hang things near, but not too near, a heater, or I've used a hairdryer on socks–the hardest things to deal with. this is the last resort, and the sun is the easiest…unless you're in Stockholm in Winter.   If you need socks, get those thin footy ones.  They are a great way to deal with socks and dry quickly.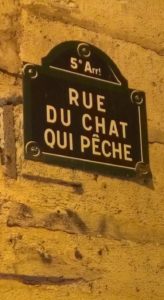 Secrets of Chic
It's early May. My trip tomorrow starts out in the San Francisco airport and lands in Paris, some 11 hours later.  Next, I fly to the South of France, Basque country, and then out in the Mediterranean, the fabled island of Corsica.  The range of  temperatures for the entire trip is 52-78F.  So what to bring?
Paris:  In Spring or Summer, bring white, blue, or subtle colored clothes.  (In winter or fall, bring black or grey clothes).  Look and see what people are wearing.  You will want to blend in, more or less, so the locals don't stare at you–at least I personally don't like to stand out as an rough-shod American).  Everybody from 1-100 looks chic in Paris.  So how to pull that off?
Pick out several good quality scarves that compliment the pieces you've selected. The Parisians don't stray much from those basic, neutral colors. They are extremely classic and simple in dress, and they are minimalists.  Don't wear much jewelry, try a simple hair do, and wear stylish or hip shoes (which during the day can be black or white sneakers).  99% of the French are the perfect weight, and they eat slowly and not very much.   Oh yes, and they walk everywhere.  It's the reason for the svelt atmosphere
I wear a thin black down jacket, water resistant, on the plane and in Paris.  Good for cold nights and rain.  If you will be in a warm climate on some of your evenings, bring a cotton sweater or large scarf that can double as a wrap.
Indispensable: nice looking plain black sleeveless top that dries fast.  Wear  with  capris.  When visiting cathedrals, you must cover your shoulders.
Black blend long pants, (mine are Title Nine) with ankle zippers and zip pockets (cool looking and quick drying).  Wear on plane and anywhere you need "slacks" or jeans. They are warm when it's cold and cool when it's hot.  I don't know how they do it, but it works.  Mine are somewhat fitted so they can pass for dressier pants.
The scarves:  bring one pashmina (doubles as a sweater wrap), one cotton (doubles as swim suit wrap if large), one narrow, light fabric for warmer weather.  Buy another one in Paris, of course.
The French are NEVER without their neck scarves, the men or the women, and for fun, try to copy the way they tie them.  The simplest and one of the most attractive ways is to fold the scarf in half, center it around your neck, and pull the loose ends through the middle.  Dresses up anything.
Two short dresses (for around town or at the beach).  Should be quick dry.  Scarfs should go with these.  Long dresses are good for when there are bugs out at night, too.  You never know, but take up more room.  I'm leaving mine behind.
Two pair capris, or what we used to call pedal pushers.  Quick dry rayon, nylon, or similar, and you're good for the country or the beach.  A couple of t-shirts or tops to go with these.  This is where I have trouble picking out just two, but that's all I ever need.  Everything should "go" with everything, as we used to say in high school.
Wear your bulky or heaviest shoes on the plane.  Pack an extra pair of daytime shoes, and a pair of rubber thongs.  Whenever I don't bring rubber slippers, I end up looking for some and never find any.  They are great for the beach or the pool at the hotel, and don't forget your swimsuit.
Bring a Europe-sized bag
Use only one bag, in the new, smaller European roll-on size.  Carry a day pack with your computer, camera, and any meds.  When you leave on your trip, that main bag should not be expanded.  Save that for on the way home!  It should be as light as possible.  If you're traveling with your partner, make them carry some of your stuff!  ha ha.
I like Rick Steeves' new bag, as shown above, and they do go on sale from time to time for under a c-note.  Sadly, they aren't as well made as they used to be, but they have a "tried-and-true" great travel design.  The company will replace them with no question if you break a zipper.
Happy Details
A hanging toiletries bag makes life so much easier.  Redheads or neo-blondes, bring your own color-safe shampoo, root cover-up, or whatever you use.  I bring a tiny bottle of non-toxic clear nail polish to keep my manicure going.
Guilty pleasure department
Seasoned travelers will always bring along one "splurge" comfort item, and for me, the coffee kit is it.  Unless going to Italy, I always bring a small immersion coil and some ground organic Indonesian coffee.  I'm surprised at how few places make strong, exciting coffee like we do here in the Bay Area.  And French coffee is the worst in the world.  It's so easy to make tea or good coffee if you have the coil, the cone, and a paper filter.  I grab a $4.95 pound of pre-ground French Roast at Trader Joes and take that.  No need to do without your morning Joe.
Guilty pleasure number two
I take my little contoured travel pillow in the outside pocket of my bag.  It has saved me on many a night where all I can find is one of those pathetic, little flat feather jobs.
Food
I always carry a small packet of Trader Joe's almonds in my purse, for those times when I get caught three hours out in the country with no food in sight and I'm starving.  Also, I can't eat gluten, so sometimes, I'm out of luck with a pasta lunch, like out on a farm visit.  You should be subtle–but when you need to nosh, you need to nosh.  On every trip, I put a dozen packs of almonds in the unused corners of my roller before I leave home and they are always gone when I get back home.  Kind bars are good, too.  Low sugar/high protein.  Little life-savers.
Electronics
You'll remember your phone, cables, camera, adaptor plugs.  I also take a Sandisk wireless memory stick with 50 movies on it in case I'm stuck with no decent movies on some plane or other.  Movies make it all work for me.  Four movies, dinner, and you're in Paris!  Oh, and bring an empty water bottle. Most airports have a filtered water fountain where you can fill that BPA-free bottle after you go through security now,,,no more having to spend $5 for a little bottle of water.
I would love to hear from you about your travel tips and secrets.  Until then,
Here's a great article by Rick Steves that takes it from a slightly different angle.
See you on the journey…