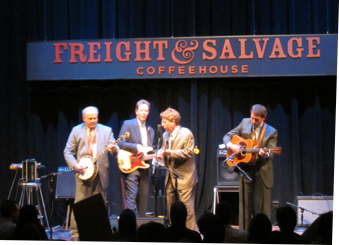 Today we air our live recording of this great band. We caught them at the Freight & Salvage in Berkeley on October 28, 2010. After two weeks of editing, we got their permission to air the first 13 songs from this sold out show…the opening concert of their first tour in fifteen years. These are some of the best acoustic players in the world, with a distinctive bluegrass/Nashville and beyond sound. Thanks to my recording engineer, (and new husband!) Rob Robinett for recording this and editing it.
[broadcast 45 minutes of show from Freight}
In the second part of the show, romantic Valentine Music.
Our Love Is Here To Stay / Lester Young & Teddy Wilson / Pres and Teddy / Verve
Stars Fell On Alabama / Ella Fitzgerald / Can't We Be Friends / Verve
Desafinado /Stan Getz & Joao Gilberto/ Getz/Gilberto/ Verve
Cadillac In Model ABob Wills / 20th Century Masters: The Millennium Collection: Best Of Bob Wills / UMC (Universal Music Catalogue)
Paralyzed /Elvis Presley / The Million Dollar Quartet / RCA
Ku-U-I-Po / Elvis Presley / Blue Hawaii / RCA
Can't Help Falling In Love/ Elvis Presley / Blue Hawaii / RCA
I'm Your ManLeonard Cohen / Leonard Cohen Live In Concert / Columbia
The Sweetest ThingJJ Grey & Mofro / Georgia Warhorse / Alligator Records
I Just Wanna Make Love To You [Live] / The Rolling Stones / Rarities: 1971-2003 / Virgin
Let It Be Me / Irma Thomas / The Soul Queen Of New Orleans: 50th Anniversary Celebration / Rounder
Love Me Like A Man / Bonnie Raitt / Bonnie Raitt Collection / Warner
Let's Stay Together/ Al Green / The Legendary Hi Records Albums, Volume 1 [[Disc 2]] / Hi Records
Peach Picking Time Down In Georgia / Merle Haggard & The Strangers / Same Train, A Different Time /Capitol
I'll Be Your Baby Tonight / Bob Dylan / John Wesley Harding / Columbia
My Carolina Sunshine Girl/ Merle Haggard / Same Train, A Different Time / Capitol
I Believe (When I Fall In Love It Will Be Forever) / Stevie Wonder / Talking Book / Motown
PrevPREVIOUSGoin' Back to Louisiana